Course details
"Lunch" New sense sensory gourmet "Panetchkin" premium lunch course from Korea <180 minutes drinking> 【5 items 3000】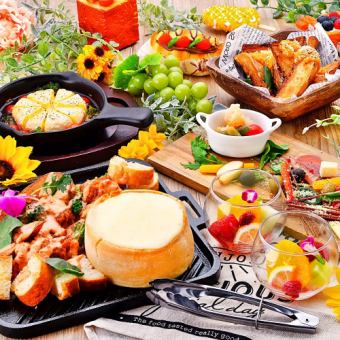 By using a coupon3000 yen
(Tax excluded) + 300 yen for free drink menu can be upgraded! 【S plan】
All-you-can-drink available

Grade up to S plan at +300 yen!
Reservation deadline

Until 23 o'clock the day before the store visit date
Available days for reservation

Monday - Sunday - Public holidays - Holidays
Popular gourmet in Korea "Panchinkin" !! Combine creamy chicken with crispy cheese served like cheese fondue! Do not mind this panchin chicken with girls' favorite items called bread and cheese on chicken This is a lunch course with an all-you-can-drink 180 minutes!
Course menu
◇ Vegeta Pass Assortment
◇ Panchinkin
◇ Ahijo
◇ Potato frit
◇ Serving fresh fruits
All-you-can-drink menu
·beer
· Barley / Chandigafu / Blue beer / Bitter Orange / Coke beer
·whisky
· Jim beam
·sour
· Oolong Hi / Green Tea High / Lemon Sour / Acerola Sour / Blue Sour / Melon Sour / Dry Sour / Tomato Sour / Salted Plum Sour
· Shochu
· Mushimonoka (wheat) / not even (potato)
·Fruit wine
· Why do not you make plum wine?
·wine
· Carlos Rossi (red · white) / kitty / operator
·Cocktail
· Cassis oolong / cassis orange / cassis soda / regga punch / fuzzy navel / peach fiiz / screwdriver / moscommeureur / gin tonic / gym bag / orange blossom
·Soft drink
· Oolong tea (ICE, HOT) / green tea (ICE, HOT) / orange / ginger / cola / tonic water / acerola
· ★ S plan ★ beer
· Premium Malts
· ★ S plan ★ whiskey
· Horn
· ★ S plan ★ Sangria
·Red and white
· ★ S plan ★ fruit liquor
· Yuzu plum wine / Rose plum wine
· ★ S plan ★ cocktail
· Malibu Milk / Malibu Orange / Malibu Coke / Kalua Milk / Black Lucian
· ★ S plan ★ mojito
· ★ S plan ★ Sparkling
· Paul Star
· ★ S plan ★ Non-cock cocktail
· Lemon soda / acerola soda / blue hawaiian soda / cable gram / melon milk / black tan
2018/12/19 update